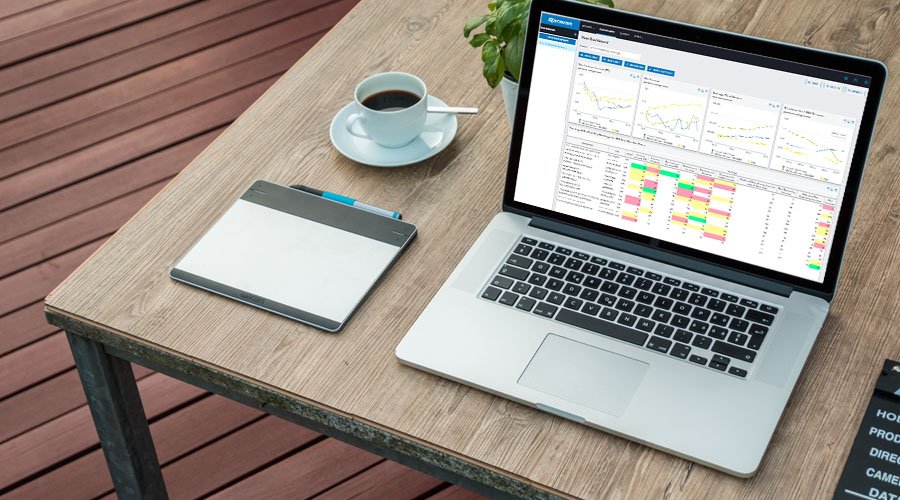 A couple of months before we launched, I began calling on some colleagues in the bank software sector to try to drum up some new partnerships. My first call was to a friend who made a pretty healthy living selling an outdated call report analysis tool (something he built around 10-15 years ago).
It seemed like a win-win solution: "What if we convert all of your customers to Qaravan's platform and we give you a royalty that is better than the margins you're making now?" I asked.
How could he say no? He would walk away with more money and less work, we would gain a nice boost to our user base, and his customers would get a free (and badly needed) upgrade. He declined. His reason: "I just don't think your idea of 'user experience' matters that much to our customers…". He may have misunderstood his customers.
Since we launched in 2015, the American Bankers Association has been using our software as part of their bank analysis curriculum for three years running. The Conference of State Bank Supervisors hosted Qaravan at their private annual technology summit (twice). And about a quarter of state and federal regulatory agencies, as well as hundreds of bankers, have all subscribed to the Qaravan platform.
But why do all of these banks and regulators pay Qaravan to access data they can get for free from the federal government? And why are they increasingly leaving their old data providers for Qaravan? It turns out, a good user experience (UX) adds a lot of value and is painfully hard to find in our market. Good UX is about easing access and navigation, remembering preferences, anticipating a wide variety of needs, and rapidly delivering usable results.
Put simply, it's doing in two mouse clicks what used to take two spreadsheets. It's instantly delivering "on demand" what used to require a meeting with a vendor. Yes, it looks and feels nice, but its purpose goes beyond aesthetics. Good UX yields more effective results in a more efficient way. It's in this context that bankers are increasingly finding value in Qaravan and pulling the plug on outdated services like my friend's (sorry, buddy!)

What does Qaravan do?
Qaravan gives community bankers a fast, flexible, and intuitive platform to analyze regulatory risk and performance data.
Qaravan does this by:
providing a modern, interactive interface on top of Call Report and UBPR Data
developing more relevant peer benchmarks
creating and automating custom reports, dashboards, and queries
securely sharing analyses with internal and external stakeholders
Who is using Qaravan?
Here are a few real customer bios and brief descriptions of how they use Qaravan:
Lynn is the President of a 150M bank in the Midwest that is focused primarily on ag lending. Typical of a President at a bank this size, Lynn doesn't have a large administrative staff and is a "Chief Everything Officer". He ends up doing much of the legwork that goes into strategic planning, board meetings, and exam prep.

On a quarterly basis, Lynn compares his bank to aggregate numbers for a large group of ag banks in his state, he looks in on the performance of a handful of the closest competitors in his local market, and he analyzes a few top-performing ag banks to gain insights into their business models.

Qaravan helped Lynn build and automate custom reports so he can now view this information instantly and on demand. Lynn estimates this has given him back about a week of time each year (a little over a day each quarter) that he normally spent compiling this data by hand. He is also happier with the more visual format of his Qaravan reports, which make it easier to spot trends and anomalies.

Pamela is a Vice President at a 500M bank with a large portfolio of real estate loans. As part of her role, Pamela works with her colleagues on ALCO issues. In the last few years, the bank has increased its Commercial Real Estate lending and Pamela has been asked to report back regarding how her bank stacks up from the perspective of CRE concentrations and liquidity risk.

Pamela uses Qaravan for regular, automated liquidity reporting as well as for ad-hoc research on new trends like the bank's rising CRE concentrations. As this level of CRE lending is somewhat new to her bank, Pamela is also using Qaravan to benchmark against some peer averages to understand how other banks in the region are doing in this area. Using Qaravan's secure sharing capabilities, she is able to quickly and easily share her findings with the ALCO team.

Ricardo is a senior examiner with a state bank regulatory agency. Prior to conducting an on-site examination of a bank, Ricardo and his team use Qaravan to more rapidly "scope" the exam and plan the engagement. As most banks require a similar scoping procedure, Ricardo has built some re-usable reporting templates around key CAMELS components which contain "red/yellow/green" threshold indicators that help identify areas of interest.

Also, like most agencies, Ricardo's organization divides the state into several supervisory regions and groupings. Ricardo uses Qaravan to build a custom peer group for each so he can compare any exam candidate to their peers.

Qaravan makes it simple for Ricardo's team to share these reporting templates and peer group configurations, helping to reduce redundant work for each examiner and to ensure a high level of consistency across the entire department.
How Qaravan compares to other alternatives?
Qaravan is truly in a class by itself, so I'm always happy to address these types of questions from our customers.
How is Qaravan different than the "dashboard" or "report card" tool I use now?
There are a lot of tools that will give you read outs of the metrics they think should be important to your bank. These come in a lot of forms that range from a few screens of limited data online, to pre-formatted Powerpoint or PDF files.
Qaravan is quite a bit different because it's not just a tool or report. Qaravan is a platform of tightly integrated modules that give you the power to easily build your own reports with the exact metrics you want and in the formats you prefer. For a jump start, you can use our templates, or you can build something completely custom using any combination of the charts, tables, and graphs found throughout the Qaravan platform. You can even personalize your reports by adding your analysis notes and bank logo.
Qaravan gives you on-demand access with full control to copy, edit, and share all of your custom configurations in both our online platform and our Excel extensions. Reports can be automated and you can set your personal preferences to keep you informed as new data becomes available. We know of no other software on the market with this rich set of features.
How are Qaravan peer groups different?
Finding the average of banks in a certain state or a certain size isn't too hard; most data providers can do this. Some even offer "custom" peer groups based on a list of banks you give them or some basic information about your lending profile (Commercial vs Savings banks, for example).
But what if you're interested in banks in the Illinois River valley between 100 and 500M in size with Ag concentrations above 10%? Or perhaps you're interested in banks surrounding the Bakken shale oil deposits which completely ignore state and county borders.. Maybe you want to identify banks with particularly high ROEs so you can dig into their high-performing business models. Or you might be trying to find your next acquisition target that has a complementary balance sheet. Whatever the case, Qaravan's point-and-click Peer Group Engine easily handles these requests.
Once created, your custom peer groups are fully integrated with all other Qaravan modules. You can swap out the UBPR's regulatory averages for those of your custom peer groups, you can link to them as you're building reports, and you can include them in all of your dashboard visualizations.
Powerful, user-friendly software at a great price seems too good to be true, right? I'm sometimes asked what the catch is. When do we crank up rates? What else are we trying to sell?
There is no catch. One of the things that makes Qaravan unique is our business model—we are a freshly minted software company that was built with the sole purpose of doing this one thing very well.
This is not a side business for us. We don't do "a little consulting sprinkled with some data". We don't spend our time thinking about brokering CDs. We're not owned by a global conglomerate in another country. We don't dabble in healthcare, mining, or oil. We haven't cobbled together a dozen acquired firms. And we haven't spent the last 15 years continuously adding to bloated legacy code.
Our model is much simpler and much more efficient. We're a small business that is focused entirely on providing this one service to community banks. Our founding team has decades of experience working with leading IT consulting companies and we have a deep history in financial regulation.
We know this sector well and we know what makes good software tick. Qaravan has been built for purpose with a world-class user experience designed specifically for community banks.
---
Sign up for a free trial here and experience Qaravan's "Beautiful Bank Data" for yourself.